ACF Active Connections Fusion
(International Patent)
La fusione multi-sensore si riferisce alla combinazione diretta di più segnali al fine di fornire un segnale che abbia lo stesso formato generale dei segnali sorgente.
Di conseguenza, la fusione delle immagini genera un'immagine fusa in cui ogni pixel è determinato da una funzione dei pixel delle immagini di origine.
Presentiamo un nuovo algoritmo di fusione di immagini chiamato Net Wave, che appartiene alla famiglia dei sistemi Active Connection Fusion (ACF), e lo confrontiamo con i migliori algoritmi utilizzati in letteratura.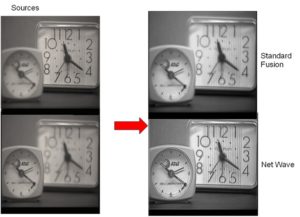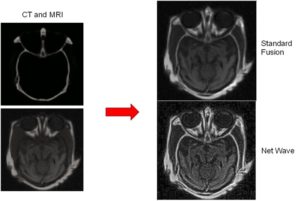 Brevetti
Active Connection Fusion (ACF): A new class of Algorithms for Image fusion. Applicant: Semeion Research Center & CSI. Inventor: P.M. Buscema. USA Patent: S/N 13/085,240. Deposited April 12 2011.
Pubblicazioni
 P.M. Buscema, R. Passariello, E. Grossi, G. Massini, F. Fraioli, and G. Serra (2013) , J-Net: An Adaptive System for Computer-Aided Diagnosis in Lung Nodule Characterization, chapter 2, pp 25-61, in W.J. Tastle (ed.), Data Mining Applications Using Artificial Adaptive Systems, Springer Science+Business Media New York 2013.