TWIST  – Training With Input Selection and Testing (International Patent)
TWIST  è un nuovo algoritmo evolutivo [1] in grado di generare due sottoinsiemi di dati con una simile densità di probabilità di distribuzione e con il minimo numero di variabili efficaci per la pattern recognition.
Di conseguenza, nell'algoritmo TWIST ogni individuo della popolazione genetica sarà definito da due vettori di lunghezza diversa:
1) il primo, individua quali e record  (N) devono essere memorizzati nel sottoinsieme A e quali devono essere memorizzati nel sottoinsieme B;
2) il secondo, mostrando quali input (M) dovrà essere utilizzato in due sottoinsiemi e quale essere soppresso.
La figura illustra la dinamica dell'algoritmo TWIST.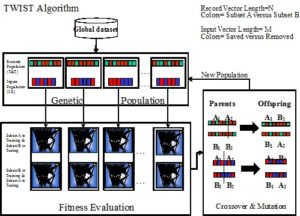 Patents:
Training & Testing System : System and method for optimisation of a database for the training and testing of prediction algorithms. Applicant Semeion Inventor M. Buscema , USA Patent US 7,711,662 B2 – May 4 2010 (Application n. US60/440,210 deposited 01-15-2003). International Patent : Application n. PCT/EP04/00157 deposited 01-13-2004